States I've Biked
An ongoing list of states where I've ridden a bike (as of the end of 2018):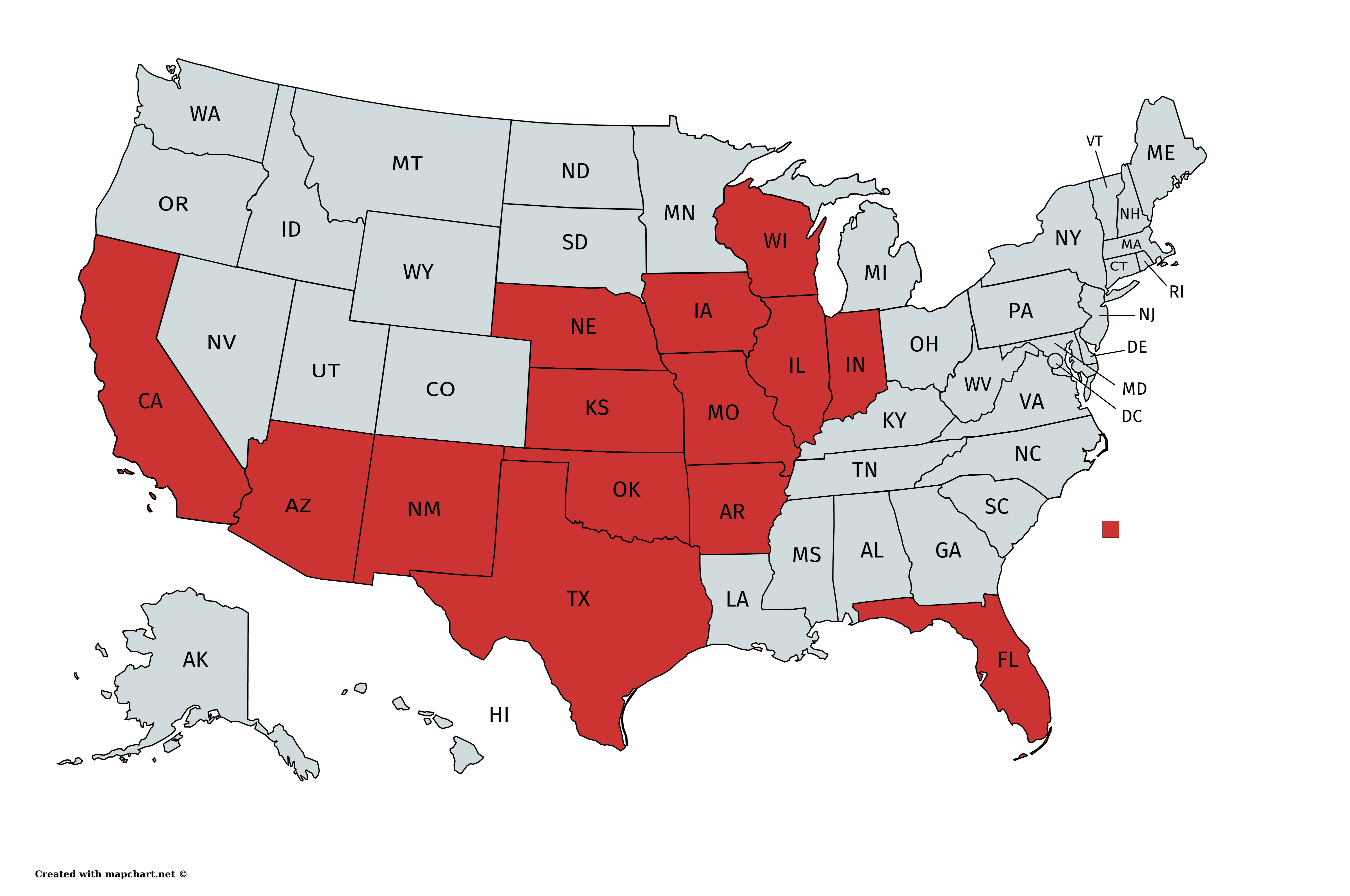 Here are some details:
Arizona

I rode in Flagstaff, Phoenix, and Tempe on a 2011 trip: Southwestern Road Trip

Arkansas

I've ridden in northwest Arkansas, near Eureka Springs and Bentonville

California

I rode around San Diego on a 2011 trip: Southwestern Road Trip

Florida

Rode very briefly at St. Pete's Beach.

Illinois

Rode on USBR66

Iowa

I rode a bit in Newton in 2018.

Kansas

Missouri

I've ridden quite a bit in Lafayette County (where I grew up), as well as in the Kansas City area and bordering regions north and south, as well as a bit in the Mark Twain National Forest. I rode the Katy Trail in 2007, and a 2015 tour took me across the northern tier of the state and back on the Katy.

Nebraska

I have family in southeastern Nebraska, and so have ridden in Beatrice, Elk Creek, Fairbury, Lincoln, Nebraska City, and Rulo.

New Mexico

I rode in Santa Fe and Albuquerque on a 2011 trip: Southwestern Road Trip

Oklahoma

I've ridden briefly in Muskogee, and in the far northeast corner.

Texas

I've taken trips to Texas a couple times, and have ridden in the Dallas metro, Farmersville, Mineola, Pittsburg, and Paris.

Wisconsin

I rode a bit in southwest WI in 2018.
Counties Biked
And here are the counties where I've biked:
Images courtesy of MapChart.net.