National Bike Challenge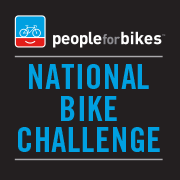 The National Bike Challenge is an annual initiative to encourage more people to ride bikes more often. I've been participating in it since 2012 or so, and find it a very motivating program. Of course, I like stats, so it's a natural fit for me, but even many of my stat-adverse friends have now gotten into it and participate enthusiastically.
The program is pretty simple: log your miles from May 1 through September 30, and every day in which you ride at least a mile you earn 20 points plus a point per mile. Your points are tabulated individually, by city, by state, etc. It's a "friendly competition" sort of thing, and it's fun to see your own points pile up, and to compare yourself with family, friends, and neighbors.
Sign up at NationalBikeChallenge.org.
It's free, and if you use Strava, you can connect your NBC account to your Strava account, and your rides get logged automagically. Easy!
My NBC Stats
2012: 2476 miles
2013: 3200 miles
2014: 4770 miles, 7830 points, #227 in nation, #9 in Kansas
2015: 3662 miles
2016: 4557 miles, 7519 points, #251 nationally, #9 in Kansas
Unfortunately, I didn't keep good records for this, and the NBC site doesn't show old data, so some details are missing… 🙁