Puch Cavette II
This is an old 10-speed "sport-touring" bicycle I purchased at a garage sale in September 2011: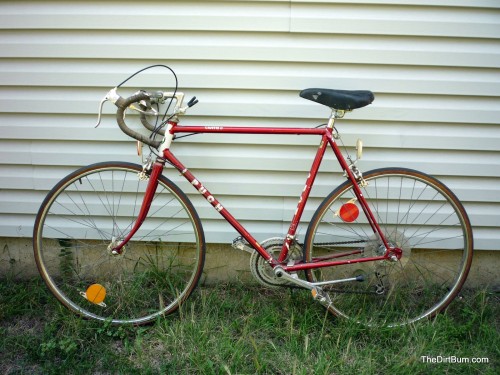 Here are the components on the bike, as purchased:
Special Puch 482 Tubing
Rigida Steel Rims, 27″ x 1-1/4″
Semperit 27: x 1-1/8″ x 1-1/4″ tires
Normandy Alloy Hubs
Maillard Front Quick-Release
Silstar Cast Aluminum Cranks (170mm)
Sakae Chainring (52/42) with Chainguard
Sun Tour Perfect 5-Speed Freewheel (Model PT-5000) (14-17-20-24-28)
SC Bottom Bracket 1.37x24T British, 68mm width
Sakae steel handlebar
Sakae Stem SR-80AH, alloy, 80mm extension, 150mm length, 22.00 diameter (French sizing)
Steel seatpost, 25.4mm diameter
Steel saddle clamp
Wittkop Saddle
Sun Tour SevenGT Rear Derailleur (Model # RD-2000)
Sun Tour Spirt Front Derailleur (Model # FD-1000)
Sun Tour Stem-Mount Shifters (Model # LD-1100 w/covers)
Weinmann Centerpull 610 brakes, front and rear
Weinmann Brake Levers
Cateye Reflectors
ESGE/Pletcher Kickstand
Platform pedals form West Germany
From my research, I've determined that it was most likely originally sold in 1978, and was a low-to-mid-range bike shop bike, made of high-tensile steel. It weighed about 31 pounds.
Since purchasing the bike and cleaning it up, I've made some changes.
My intention was to use the bike as a sort of "go fast" bike, primarily for paved rides (though it'll handle gravel) with no rack or fenders.
I rode the heck out of this bike. For a modest bike, it rode extremely well. Nevertheless, the last year I rode it regularly was 2014. I sold the bike in 2018.
Puch Cavette II Stats
Mileage: ~9280 miles
Eddington Miles: 42 miles
Eddington Kms: 61 kms
Eddington Minutes: 340 minutes
Stats thru the end of 2016