The following are some quick reviews of gear I used on my recent USBR66 Tour, in no particular order: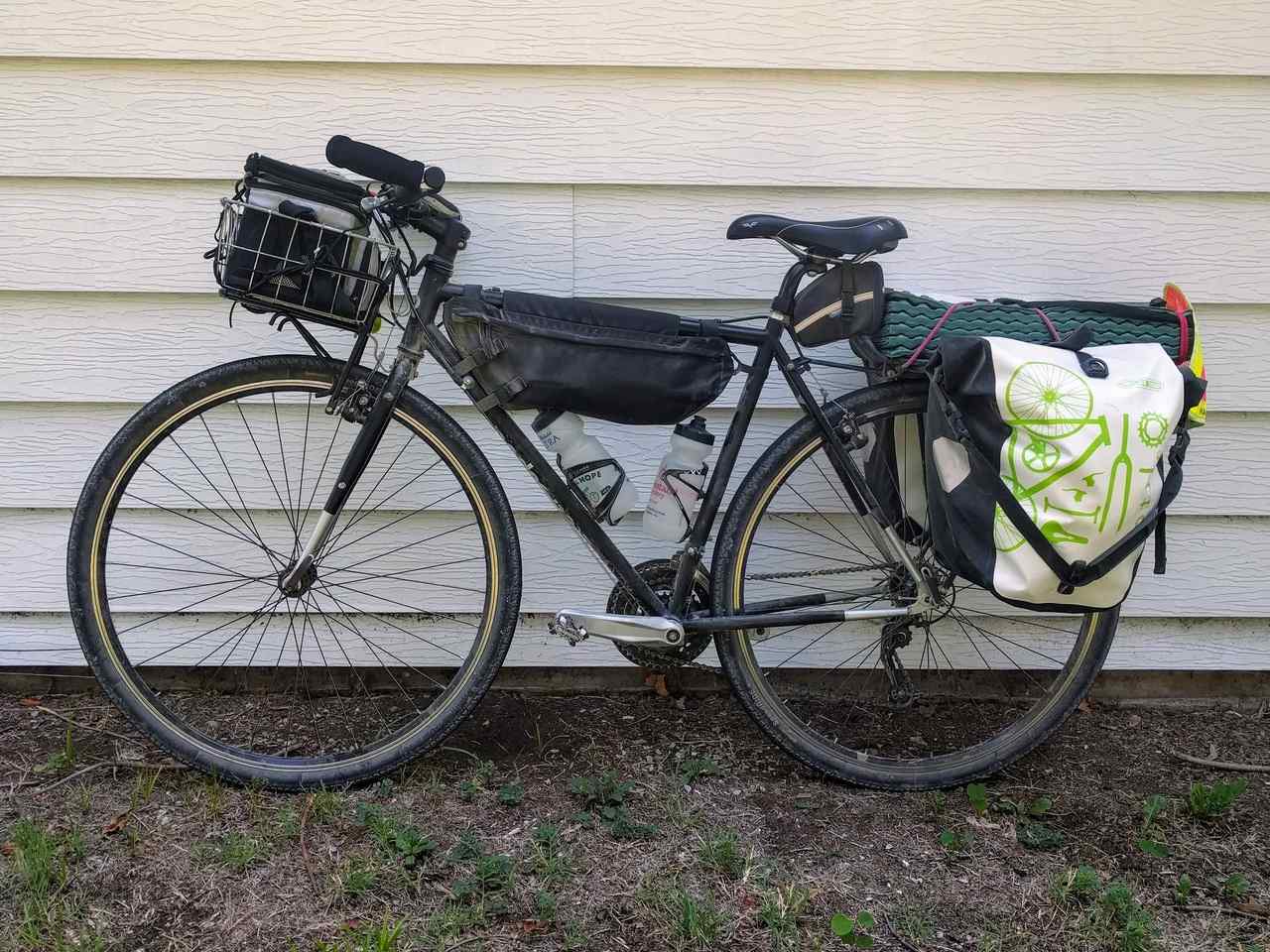 Here'e the bike and gear at the end of the tour. Things are little dirty because I did 30-some miles of gravel on the last day.
The bike is a Retrospec Amok, billed as a flat-bar cyclocross bike, but configured as a touring bike. Compared to the stock bike, I've swapped the single chainring for a mountain triple, added a rack, added bar-ends, added a front rack and basket, as well as bags and water bottle cages. The bike worked nearly flawlessly on the trip, carrying me over 850 miles in comfort.
Tires: I rolled with Continental Speed Ride tires, in a 700 x 42 size (actually measure  about 39mm width, on 21mm external width rims). No flats, only had to add air twice during the 15 days of the trip. I now have about 1900 miles on these tires, and they're just beginning to show wear. Highly recommended.
Saddle: Forté Men's Softail Saddle. No saddle sores, minimal saddle fatigue. I now run this same saddle on three of my bikes. It's not a high-end saddle by any means, and relatively heavy, but it works for me.
Pedals: Shimano M520. The basic SPD pedal. Again, I use this same pedal on a number of my bikes. Solid, good value. Highly recommended.
Shoes: Nashbar Ragster II Cycling Sandals. I wore Lake sandals for many years, and liked them a lot, but they eventually wore out, and Lake no longer makes that model. I'd heard good things about the Nashbar sandals, and the good reviews have been borne out. The sandals are comfortable (with or without socks), look decent, work well with SPD cleats, and are easy to clean (it doesn't hurt to get them wet). I was so comfortable with these shoes, both on and off the bike, that I didn't bother to bring an extra pair of shoes for off-bike use. Highly recommended.
Rear rack: Axiom Journey. No issues. Held the panniers and gear securely.
Front rack: Sunlite Gold Tec Front Rack. It worked. Only used to hold the basket. It bent slightly when I crashed, but did not break.
Basket: Wald 137. This is the third tour I've used the front basket, and it worked fine. On the previous two tours, I've used the stock handlebar mount and axle-mount struts. This time out, I removed the struts and zip-tied the basket to the small front rack. This allowed me to get the basket a bit lower. When I crashed, the basket took a good portion of the impact. It bent very slightly, but did not fail. Two of my zip ties broke, but I carried extras, so they were easily replaced. Here's how the basket looked for much of the trip:
The basket carried a soft-sided cooler, and sometimes a drink, wrapped in a hand towel to minimize it bouncing around. During hot days, it's very handy to have a styrofoam cup filled with ice and drink, readily at hand, easy to take a sip even while moving. The basket also sometimes carried my speaker/battery and phone. A basket is incredibly useful for carrying odd things, since it's so easy to simply strap something to the wire grid.
Speaker/Battery: Zealot S1 bluetooth speaker / 4000mAH power bank / flashlight. I use this for listening to music or audiobooks, with the option to simultaneously charge my phone. Very handy.
Backup battery: Vinsic VSPB206 with 20000mAh capacity, along with the aforementioned Zealot, gave me quite a bit of capacity, probably more than I needed for this particular tour, with nightly access to electricity. Worked well.
Grips: MSW EFG-100 Ergo Grips on the bars, Bontrager Cruiser Foam Grips for the bar ends. I purchased the MSW grips new for the trip (the previous grips being worn smooth), and they are reasonably comfortable. I bought the bar end grips during the trip, and for cheap foam, they are surprisingly comfortable. By the way, I use the bar ends themselves quite a lot. The extra hand positions are very much appreciated on long rides.I did get a fair amount of hand fatigue (especially at the base of the palm) towards the end of the tour, so I'm considering experimenting with other bar options (thinking specifically about the Velo Orange Crazy Bar) for future tours.
Gloves: Performance Terry Gloves. I pulled out a new pair of these for the tour. They are pretty comfortable and rugged, and a good value.
Helmet: Kali Chakra. Reasonably comfortable and unobtrusive. Velcro pad retainers tend to come unglued during heat, which is annoying.
Mirror: Bike Peddler Take A Look Cycling Eyeglass Mirror. The best cycling mirror I've ever used. Indispensable.
Bottle cages: Lezyne Flow Cage SL (front), Bontrager XXX (rear) — The Lezyne cage is side entry, making it easier to access with the frame bag. The Bontrager cage is a fancy carbon thing that lists for $80, but can be purchased on eBay for less than $10. They both work fine, and neither dirty up your water bottles line aluminum cages do.
Frame bag: Jandd Frame Pack Large. I got this just before my trip, to replace my older Bushwhacker Tahoe Frame Bag. The Jandd bag is a bit bigger, and has two compartments instead of just one. I used it to hold my pump, a tube, sunscreen, and snacks.
Seat bag: Roswheel Premium Compact Seat Pack. It works, has sufficient capacity for spare tube, multitool, headlight, tail light, chain lube, patch kit.
Panniers: Ortlieb Back-Roller Classic. I purchased these awhile back, but this is the first tour I've used them on. Compared to my old Nashbar ATB Panniers, the Ortliebs are waterproof, and have a better attachment system. On the downside, they only have one big compartment. On this tour, we only got rained on twice, so the waterproof properties were stringently tested (though contents remained dry). The right pannier housed my tent, sleeping bag, pillow, jacket, and sometimes clothing. The left pannier held clothing, electronics, and food/drink. During the train trip, I put the sleeping pad and helmet in the right pannier as well.
Tent: Alps Mystique 1.5. I've been using this tent for several years now, and it's still working fine. An excellent product.
Sleeping bag: REI Travel Sack. Again, I've used this for many years, and it's a great summer bag.
Pillow: Magellan Camping Pillow. It's cheap, and somewhat comfortable, though relatively bulky. I'm in the market for something better…
Sleeping pad: Therm-a-Rest Z Lite. I had three choices for the tour: An REI Stratus inflatable pad, a full-length Z Lite Sol, and a 3/4-length Z Lite. I went with the Z Lite for two main reasons. One, with my tent in a pannier, I needed a place to attach my rear reflective triangle, so that eliminated the inflatable pad. Two, I wanted to carry the sleeping pad inside a pannier on the train trip, and the 3/4-length pad was smaller than the full-length pad. I was a little worried about comfort, but the closed-cell foam pad worked fine, I never regretted it. It was not a problem to have my feet not on the pad when sleeping.
Headlight: An older Lezyne SuperDrive. It still works fine, and is USB-rechargeable.
Tail Light: PDW Danger Zone clone. It works. Runs off two AAA batteries. I'd rather have something a bit brighter that is USB-rechargeable, so I'm sort of in the market for something better.
Reflective Triangle: Jogalite Cyclist's Safety Triangle. I think this is an important method of making bicyclists visible to overtaking traffic. It's large and bright in daylight, and reflective under automobile headlights. I attached it in the center of my bike, to my sleeping pad.