On February 2nd I took advantage of the unseasonably mild temperatures to participate in the Free State Border Patrol, a 200+ kilometer "permanent" route created by Keith at CommuterDude.com for Kansas City Ultra Cycling, the local RUSA (Randonneurs USA) club.
I did the ride with Keith and Terry, another cyclist from St. Joseph, MO. Both are working on R-12 Awards — riding a 200K or longer for 12 consecutive months. I'm not doing that, so I didn't do the ride "for credit", just for fun (if you can imagine).
The ride officially started in Olathe at 5:00am, but rather than tacking on an extra 12 miles (into Olathe and back), I elected to meet Keith and Terry in Stilwell, about 10 miles into the route.
I left home at about 4:45, and met up with the other two at about 5:30, and we rolled south on Metcalf Road to Louisburg for the first quick break.
This is just before dawn at Louisburg Lake.
The "Welcome To La Cygne" sign is always a nice milepost along the route, and a nice place to take a short break before the fast downhill and long flat into town.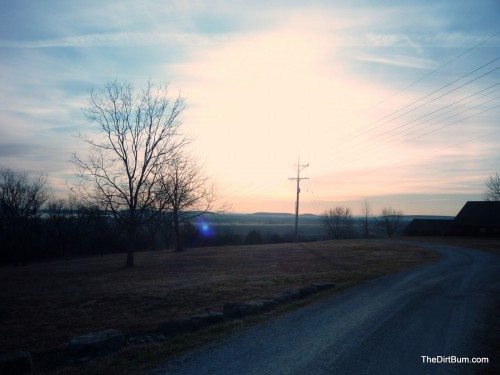 There's a nice view from atop the hill. That's La Cygne Lake to the left beyond the trees, and several mounds on the border between Kansas and Missouri.
(Note: You'll probably notice a blueish tint to many of my photos. I had the camera's white balance set for indoor lighting, and forgot to change it back before the ride. I tried to compensate with post-processing, some more successfully than others.)
The water tower in La Cygne, Kansas features a nice town logo. La Cygne is situated along the Marais des Cygnes River (French for "Marsh of the Swans").
This shot is along County Road 1095 in Linn County, Kansas. This quiet paved road features some good-sized hills, with some corresponding fun downhills, along with some nice scenery. Even in the "brown months" of winter, it's still a pleasant route to ride.
Also along 1095 is the Linnwood School, once a one-room schoolhouse, and perhaps a church (with a cemetery behind it), now used as a community center, with somewhat dilapidated playground equipment still on the grounds.
Once at Pleasanton we took a nice little rest. Here are the three bikes lined up along the side of the convenience store — Keith's beautiful Kogswell, my Puch, and Terry's Specialized Allez (with Terry alongside). We were all traveling pretty light. Terry had a Topeak handlebar bag, but other than that it was just seat bags and pockets.
Back on the road leaving Pleasanton, the day was warming and a nice little tailwind was picking up. All smiles from Keith and Terry. Peace out, 'Dude.
Terry was nice enough to take my picture as we rolled along through the countryside.
There's a 3-mile stretch along US-69 highway. It always strikes me as odd that bicycles are allowed on this 75 MPH road, but not on interstate highways in Kansas, which have the same speed limit and similar shoulders. It's perfectly safe (as long as no fool tries to drive on the shoulder).
And finally, pulling into the garage after 133 miles.
Gear Report
I rode the Puch Cavette II on this trip, my first really long ride on this bike.
Other than wishing for "just one more gear" on some of the hills, the bike performed quite well. No mechanical problems. No major pains, other than shoulder/neck tension, which seems more a matter of acclimation than anything else. Hands good, knees good, feet good, even the saddle wasn't a problem.
In fact, I still felt really strong at the end.
Part of this was due, in no small part, to the weather, which was quite amazing for early February in Kansas. The temperature dipped to about 32°F in spots in the early morning, and was 63°F by the time we finished up. There was a slight (less than 5 MPH) headwind outbound, and a noticeable-but-not-huge 10-12 MPH tailwind heading back home.
Gear-wise, I had two bits of pre-ride panic. First, I discovered my MagicShine headlight batteries were about done for. With one pack, I could barely get 1 hour on high, and 2 hours on low. The other pack wouldn't even take a charge.
I figured I needed at least 3 hours of lighting, so I fell back to plan B, and used LED flashlights. My primary light was a Rayovac "Indestructible" flashlight (which I reviewed here: A Decent $15 Bike Light). It promises 100 lumens for up to 15 hours on a pair of AA batteries, which is pretty darned impressive. My second light was an older LED flashlight I had on hand (also running on AA's). This gave me double redundancy, (triple, if you count the two AA's in my camera). In practice, the Rayovac (pictured in the last photo above) performed just fine. I have a new bike-specific light on order, but for this ride, I was covered.
The second pre-ride flub was the loss of one of my favorite gloves the morning of the ride. So I used an old MTB glove I had lying around. Turns out that the missing glove was stuck to the inside of my fleece cap, which I discovered at the first stop. So I ended up taking along the glove that was lost, and leaving behind the glove that wasn't missing. Dumb. Oh well, the MTB glove worked fine, other than cold fingertips for part of the ride.
Clothing-wise, I went with arm-warmers, a wool base layer, a Hind long-sleeve base layer over that, a short-sleeve jersey, and a thin windbreaker vest on top. On the bottom, Cannondale liner shorts and Cannondale pants, with two layers of wool socks and MTB shoes on my feet. I was never cold other than the fingertips. The arm-warmers and vest came off as the day warmed, and I never overheated.
For food, I brought along Clif bars and a gel-pack. I took a few bites of the Clif bar, and squeezed out the gel on the way back, but other than that it was just c-store food and drink:
Granola bar in Stilwell
Apple Fritter and V-8 in La Cygne
Sausage and Egg Biscuit and chocolate milk in Pleasanton
Pecan pie and Snapple in La Cygne
So, a bit heavy on the junk food, but no stomach problems and no lack of energy.
I ended up with 133 miles at a 15.25 MPH pace.
I rode basically the same route in March 2010 on the LHT (135 Miles and No Headwind) at a 15.0 MPH pace.
So slightly faster on the Puch, and I wasn't as tired or sore. Do I attribute that to the bike, or to my fitness? Not sure. The difference is pretty slight.
Not much I'd change on the Puch. Better wheels and wider gearing would be nice, but not strictly necessary.
I must say that it tickles me to no end to ride 133 miles — a ride that most cyclists, riding lightweight bikes costing well over $1000, wouldn't attempt — on a 34-year-old, $15 bike, with steel wheels and $7 tires. The tightwad in me, I guess… 🙂