I stumbled across an old 10-speed bike at a garage sale. It was brand I'd never heard of, and looked like it had been sitting in a basement for a couple decades, mostly unridden, in decent shape but not really pristine. But it was a bike store bike (Rick's Bike Shop in Lawrence, KS), not a department store bike, so that was a good sign. I wasn't really in the market for a new bike, but if it was worthwhile, it might be fun to resurrect. In the end, I got it for $15, took it home, and started inspecting and researching it.
The bike is a Puch Cavette II. There's not a lot of information about this bike on the web, but I found a bit here and there, mostly about other Puch models.
First, some background on Puch:
A short lived marque, made by Austro-Daimler Puch, and which had success particularly in the USA in the 1970s and early 80s. There were two lines simultaneously marketed; Austro-Daimler and Puch. A-D was a "fancier" line with medium price to high end offerings, while Puch was aimed at a broader range including models at lower price points. [classicrendezvous.com]
And there is further info from Martin Cohen, which provides a rich history of Steyr-Daimler-Puch and how the Austro-Daimler and Puch lines were marketed in America, and the ultimate demise of the brand(s).
Actually, Puch is still (apparently) alive, selling bikes to Austria and Germany via puch-bikes.com.
Here's some info from a 1977 brochure scan I found on the web:
At Puch's factory in Graz, Austria, production is done according to the European workstation concept, where a team of craftsmen works together to build one bike at a time. The most critical operations are all done by hand. And the finished product, the Graz frame, is unsurpassed for quality, durability and, most important, performance.

Two types of tubing are used for Puck's Graz Frames: double butted Reynolds 531, a remarkably stiff yet light manganese-molybdenum alloy, and Special Puch 482, a lightweight high-tensile nickel-carbon steel.

Since a frame is only as strong as its joints (local points of stress), joints on the Graz Frame are engineered to withstand hundreds of pounds of pressure with no energy-consuming end-play. Tubing ends are mitered to fit perfectly and resist the torque that is built up by pedaling. And each joint is locked into a carefully-tooled hand-fitted lug.

On all Graz Frames, lugged joints are solidly fixed with a low-temperature soldering process called "brazing," which preserves the temper of the tubing, hence its strength and rigidity. Most of the brazing on Puch bicycles is done by hand. much of it using an especially low-melt silver solder.

For casual or cross-country touring, the Graz Frame of Special Puch 482 tubing combines stable tracking with an extremely comfortable ride. It is designed by the same engineers and built in the same factory as the Puch all-531 frame, and is finished with equal attention to detail.

The Cavette is a rugged bicycle, built to ride smoothly over any sort of road conditions. Equipped with alloy racing handlebars and consistently reliable Weinmann center pull brakes.
The Cavette appears to have been priced as either the lowest or next-to-lowest model of Puch's road bikes. Higher-end bikes included the Cavalier, Brigadier, Marco Polo, and Royal Force (only the latter in 531 tubing). The Paladin was an "upright touring bike" and the Toledo was a 3-speed upright bike. Puch also had a folding bike called the BreakAway, a city bike with 20″ wheels called the Vitessa, and a children's cruiser bike called the Rapier.
Here are the components on the bike:
Special Puch 482 Tubing
Rigida Steel Rims, 27″ x 1-1/4″
Semperit 27: x 1-1/8″ x 1-1/4″ tires
Normandy Alloy Hubs
Maillard Front Quick-Release
Silstar Cast Aluminum Cranks (170mm)
Sakae Chainring (52/42) with Chainguard
Sun Tour Perfect 5-Speed Freewheel (Model PT-5000) (14-17-20-24-28)
SC Bottom Bracket 1.37x24T British, 68mm width
Sakae steel handlebar
Sakae Stem SR-80AH, alloy, 80mm extension, 150mm length, 22.00 diameter (French sizing)
Steel seatpost, 25.4mm diameter
Steel saddle clamp
Wittkop Saddle
Sun Tour SevenGT Rear Derailleur (Model # RD-2000)
Sun Tour Spirt Front Derailleur (Model # FD-1000)
Sun Tour Stem-Mount Shifters (Model # LD-1100 w/covers)
Weinmann Centerpull 610 brakes, front and rear
Weinmann Brake Levers
Cateye Reflectors
ESGE/Pletcher Kickstand
Platform pedals form West Germany
So, a mixture of European and Asian components. Not top-of-the-line stuff, but decent quality. Date codes on the components are a mixture of "77" and "78", so I'm guessing that mine was sold in 1978 or 1979.
Weight is about 31.5 lbs.
So this is a low-end 10-speed road bike. Not fancy, but pretty solid. Much better quality than the old "Coast King" 10-speed that I purchased in 1980 (and sold at a garage sale a few years ago).
Surprisingly, once I got it cleaned up, I only found two problems with it — a flat front tire, and a dented rear rim (what was why one of the rear brake shoes had been lowered off the rim). The tires were pretty good for 30-year-old rubber, and everything else was pretty functional.
I replaced the tube in the front tire, and pounded out the dented rim as best I could, and took it for a test ride.
The bike rides really nice. Shifting is not particularly smooth, and it won't reach the highest gear in the rear (I suspect a bent derailleur hanger), but it's a pleasure to ride. Very smooth and stable, even on gravel.
Surprisingly, the bike is very nearly my size. By my estimation, it's a 23″ (about 58cm), whereas my Long Haul Trucker is a 52cm. Standover height is just barely enough, and I feel a bit "stretched out" on the bike, but the more I ride it the more comfortable I seem to get.
I don't really care for the handlebar style or the brake levers, but I can live with them for now. Even the saddle (a solid chunk of rubber) is reasonably comfortable.
The bike is rideable as-is, but I'm planning to look for a few items to improve things:
Replace the handlebar tape
Replace the cables with new — they all work, but the rear brake cable housing is bent at the lever, so may not last long
Replace the brake levers with "aero" levers, so that the cables route beneath the handlebar tape
Replace the 27″ steel wheels with 700c alloy wheels for lighter weight, better braking, and more tire choices (I think the existing brakes will handle the slightly smaller rims).
Swap out to a shorter stem
Find a different handlebar — I think I want one with flatter ramps and a shallower drop
I'd like to change the stem-mounted shifters to bar-end shifters
Maybe I can find some better brakes — side-pulls?
Need to find a way to mount a water bottle — the frame has no braze-ons
A swap meet is coming up, so I'll see what I can find. It's hard to justify putting much money into this bike, but maybe I'll luck into some more good deals.
One aggravating factor is the stem — it is "French Sizing", which means that it's 22.00mm in diameter (rather than the more common 22.20mm), and the handlebar clamp is 25mm rather than the standard 25.4mm. So that may be a limiting factor. If I can't find a shorter stem, or a 25mm handlebar, then I might be stuck.
Yes, I'm aware that I can perhaps modify a 22.2mm stem to fit, as suggested by Sheldon Brown:
In cases where the stem really won't fit into the steerer, a few minutes' work on the stem with sandpaper will usually do the trick. Wrap the sandpaper around the stem, grip it with your hand, and turn the stem round and round until it fits. You only need to remove 0.1 mm, which is 1/250″, not much at all!
… but that's a fallback position. Likewise, I'm aware that if I change out the rear hub from a freewheel to a freehub, I may need to cold set the rear hub to accommodate slightly wider spacing (the exisitng spacing appears to be 126mm).
Here are some pictures, most in pre-cleanup state: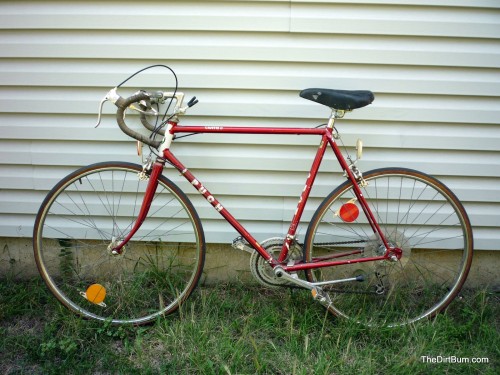 This is a side view of the Puch Cavette II after I got it home and before I started cleaning it up.
"Puch Special 482 Tubing" label.
Head badge (just a label, actually) and lugwork details.
Front brake detail. The tires look barely used.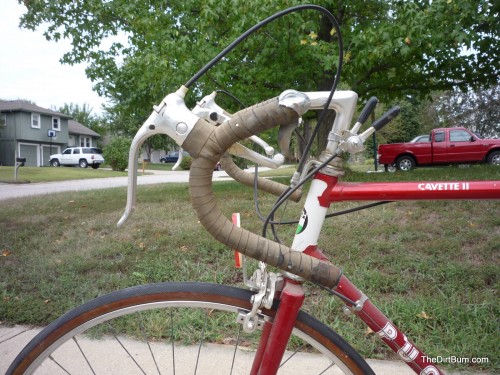 Handlebar and brake lever details.
Sun Tour stem-mounted friction shifters.
The saddle may appear to be leather, but it's not. I believe this was referred to as a "comfort saddle".
Sun Tour SevenGT Rear Derailleur, a mid-to-low end offering of the time, but apparently well-regarded.
This also shows the rear axle bolts, with Puch covers. Kind of a neat touch, but I find it curious that the front axle use a quick-release and the rear is bolted on.
This picture also shows the rear dropout, which is stamped, not forged — another sign that this is not a higher-end frame. The derailleur dropout is a bolt-on affair.
Here's a look at one of the Rigida steel rims ("Made in France").
This is a close-up of the bump in the rear rim. I used a hammer to gently beat the rim as flat as I could. It turned out OK. I can still feel the bump when braking, but it's not terrible.
This photo shows my Long Haul Trucker superimposed on the Puch, with the bottom brackets lined up. The Surly is a 52cm frame with 26″ wheels. The Puch is a 23″ frame (about 58cm) with 27″ wheels.
I find it interesting how closely the two bikes match, despite being built ~30 years apart. The seat tube and down tube angles are spot on. And the seat height matches, even though the Puch was only fit by feel.
This image also shows that the Puch handlebars are definitely lower and the center of the bar is farther away than on the LHT.
Here's a "glamour shot" of the Puch against a solid colored background.
This shot was selected because the building is of the same vintage as the bike — 1960s-70s. This is the (former) United States Post Office in Spring Hill, Kansas.
I post-processed the image to make it appear older, but I think it fits…
And finally, the Puch on a country road at sunset — in its element.
I'm hoping to use the Puch as a "go fast"-ish bike, as a contrast to the utility nature of my Long Haul Trucker — bigger wheels, thinner tires, no racks, fewer bags. Something where I can be unencumbered and push it a little harder.
I still need to come up with a bag and pump, and a way to carry water, before I can take the bike too far from home.
Should be a fun project!