Some days, it can be fun to ride for speed, for the joy of seeming to fly with the wind. But for me, those days can't compare to the rewards of riding slowly on a warm Spring afternoon, stopping at every bridge to listen to the water, taking pictures of roadside flowers, hearing birdsong, smelling freshly-turned earth: a joyful heart.
Pictures don't do the rushing streams justice, and video can't capture the sound of water or birds (at least the pathetic microphone on my camera can't), and the smell of the earth can only be experienced first-hand.
They may or may not be your thing, but flowers have the power to stop me in my tracks. They are always a favorite photo subject, and one I can't resist. If you enjoy looking at flowers, I think you'll enjoy this post, but if not, feel free to skip it entirely.
Roadside flowers have finally begun to appear, which is a time of great joy for this cyclist. They don't make for a great workout, but they do make for a great ride.
I'll often stop every 50 feet to photograph a new flower, or get a different look at a variety I've already seen. With a group, someone would end up feeling hurried, while others would feel impatient, so a "flower ride" is, almost by necessity, a solitary ride. But that's OK. I can ride as slow as I like, and stop whenever the mood strikes. It's better than missing a great shot because you didn't want to delay the group.
The flowers are mostly small at this point, but will get bigger and showier as the spring and summer progress. Here are some of the one's I've gotten pictures of so far (as always, click the image to see a higher-resolution version):
---
---
---
---
---
---
---
---
---
---
---
---
---
---
---
---
---

A roadside Thistle, not blooming yet, but will be soon.
---

Mulberries! Looks like there's going to be a nice crop in a few weeks.
---

Bike and (unidentified) grass.
---
---

Field Corn and wet ground. We've had quite a bit of rain lately. Gravel roads are perfectly dry, but anywhere off-road is a mud-fest.
---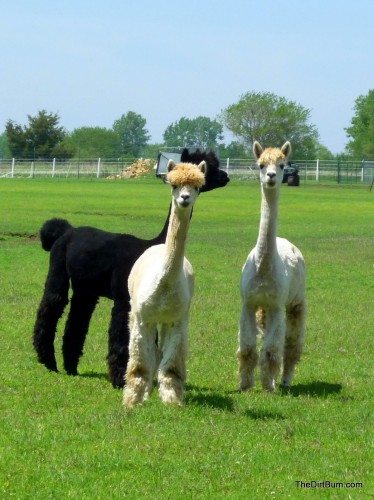 Alpacas, recently shorn.
---

A tree-lined lane.
---
(If I've mis-identified any of the flowers or grasses, feel free to set me right in the comments…)