Yes it's true. Several days later I can still hardly believe it. I rode 135 miles without a bit of headwind.
In Kansas, known as the "Saudi Arabia of Wind", that's not far from being classified a miracle. But I'll take it.
For two month's I'd been preparing to do my first randonneuring ride, a 200K (125 mile) Brevet running from Kansas City, Kansas to Ottawa, Kansas and back, with the good folks from Kansas City Ultra Cycling. The ride was scheduled for Saturday, March 27th.
On Friday, with the weather forecast calling for rain, wind, and cool temperatures all day, I pulled the plug on the Brevet. Why ride 10+ hours in rain when I don't have to?
So, I figured my rando shot was done for; the next 200K on the schedule was May 8th, and by then I needed to be riding gravel, not pavement.
But then something unexpected happened — Keith Gates (commuterDude) told me that he wasn't riding the Brevet, either, but was instead riding a Permanent route on Monday, the 29th. I looked at the forecast, which was for warmish temps and light wind, and I was in.
The only downside to Keith's ride was an early start — 4am! Yikes.
Oh well. Up at 3am, and out the door shortly before 4, into the darkness. It was cold (about 35°F), but no wind. None.
I met Keith and another rider, Dianna, who was also doing her first rando ride, a couple miles from my house, and we headed off east and then south at a good pace.
The day before, I'd packed and prepared all my stuff for the ride. But I made three mistakes. One, I should've worn an extra pair of socks — a pair of wool socks and a stormsock wasn't enough, and I ended up with cold toes. Two, I should've worn heavier gloves — one pair of liner gloves wasn't enough over short-fingered gloves. Again, cold fingers off and on for the first 3-4 hours.
But my third mistake was the worst — I forgot my glasses. I'd prepared them with clear lenses for the dark start, but had gone off an left them on the table at home. Worse, the glasses had my mirror attached, so I felt like I was riding half blind all day, not being able to see behind me.
The good news was, everything else — head, torso, arms, legs — were spot-on. Very comfortable.
And the other thing that worked out well was my new light worked perfectly. I'd bought a MagicShine LED headlight at the end of last year, but hadn't ridden with it yet. It put out plenty of light, even at the lowest setting, and didn't dim at all. I'll post up a more detailed review at a later time…
The route carried us through Stillwell and then south to Louisburg, where we stopped for a quick break, waiting in the dark for the convenience store to open at 5:30am. Then we were off again, rolling over the hills on Metcalf Road to 335th, then a short jog onto US-69 Highway — a four-lane freeway-style road, but with wide shoulders and light traffic — to 359th, then a quick left onto Jingo Road.
By this time, the big, beautiful full moon was setting, and the horizon was beginning to lighten in the east. This was the first time I'd seen the sunrise on a bike since the Biking Across Kansas tour in 2008.
Dianna and Keith pulled away from me on this long southward stretch, and at one point I stopped to take this photo: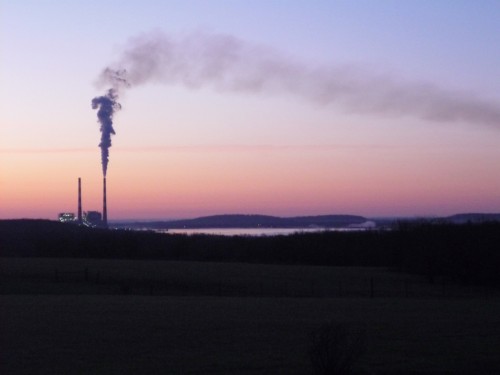 A few minutes before sunrise, looking over La Cygne Lake and the La Cygne Generating Station. You can see there's almost no wind at lower elevations…
The next stop was the Casey's convenience store in La Cygne. As we rolled into town, the temperature on the bank sign read 27°F — how did it get colder? Dang…
It was light by the time we left La Cygne, and after a mile or two on K-152 Highway, we were headed south again.
Crossing the Marais des Cygnes River flood plain, looking forward to the hills of Linn County and another 85 miles of pedaling. It looks warm, but it was still plenty chilly at this point!
There are some pretty good hills between La Cygne and Pleasanton, but I didn't find them too oppressive (nothing compared to the ones I rode the week before in Arkansas). As we hit the c-store in Pleasanton, I was feeling good except that my right foot was numb. I took off the stormsock, and that helped immediately — too much compression! The orange juice, beef jerky, and pecan pie didn't hurt, either.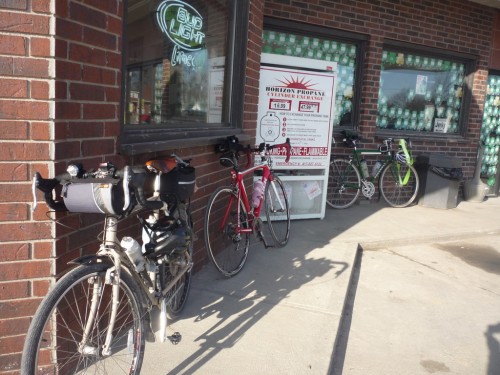 Back on the road and headed toward home, we stopped at a historical sign I had noticed on the way out:
This sign marks the nearby location of Paris, Kansas, a pro-slavery settlement that was the first county seat in Linn County, 1856. It was the site of the Battle of Paris in December 1859. At one time there was apparently quite a little community here — the records refer to a courthouse and "principal business blocks" — but there doesn't seem to be anything to see here now, other than this sign. The gates leading into the property were closed, and we did not attempt to enter and explore (private property, presumably).
This next shot was taken heading north on County Road 1095 across the river bottoms, with a tailwind at our backs:
Stopping again in La Cygne, each of us removed a layer, as the day was heating up. With about 45-50 miles to go, I was feeling pretty good — still strong, but fatigue beginning to show, with just a slight twinge of pain flaring up in my left knee.
By the time I made it back home, I'd ridden 135 miles — about 30 miles longer than I'd ever gone before:
Wow. It felt great to finish, and I still felt decent at the end.
The moderate temperatures and friendly wind — hardly any wind at all heading south, then a nice 5-10 MPH tailwind on the way back north — certainly made it easier than it could have been. Frankly, conditions were pretty well ideal.
And the pace was way faster than I expected: 15MPH average, helped along no doubt by the lack of headwind.
Now, extend the ride out to 200 miles, and gravel instead of pavement. And maybe 25 MPH headwinds and crosswinds. How would I feel then?
Who knows, but I now think that I have a shot at surviving the Dirty Kanza's 205 miles of misery. It still feels like a long shot, but it's now at least within the realm of possibility.
Physically, it was a good day. Other than the foot numbness (related to too-tight socks/shoes) and knee pain (not huge, but something to watch out for), everything went well. I was able to drink (water and Accelerade, alternating sips) about every mile, plus an orange juice in the middle. Food intake was probably a bit lacking, but it wasn't a problem, and I didn't have any stomach problems or cramping.
Shoulders were a bit sore/tense, but not bad at all, considering. Hands and wrists were good as well, though I'm considering upgrading bars (will write about that at another time).
It turned out to be just a perfect day. I couldn't have asked for anything better.