My Sunday ride started from my home base on Holiday Island, and I rode northwest into the Mark Twain National Forest.
It was a cool and dreary day, with a moderate wind out of the northwest. The forecast called for only a 10% chance of precipitation, but it actually drizzled most of the day (though never let loose and really rained).
I planned a 28-mile route, but once inside the forest, I missed a turn (Google Maps used one name, and the actual road signs were another), and it ended up being over 46 miles. Yep, in an area with few roads, if you miss one turn, it's a long way around to find another.
Technically, I was never really "lost", since I knew I could always just turn around and go back the way I came, but for a ways I wasn't quite sure how far the next turn-off would be. Oh well, I consider that just a part of the adventure. And it would remain a theme through the rest of my week…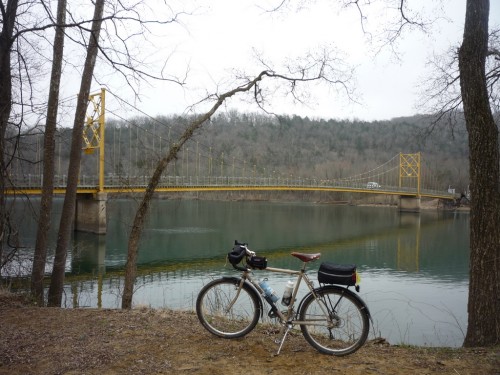 The Beaver Bridge is a Suspension bridge over the White River (Table Rock Reservoir) on AR 187 at Beaver, Arkansas. The bridge was built in 1949 and supports one lane of traffic over a 300-foot span. Vehicles wait at each end for the bridge to clear before proceeding. It can be a little problematic on a bicycle, as drivers don't necessarily notice a small bike on the large bridge.
This is a rock outcropping along the shore of Table Rock Lake, adjacent to the walking trail that runs parallel to the shoreline. You can see the Beaver Bridge in the background.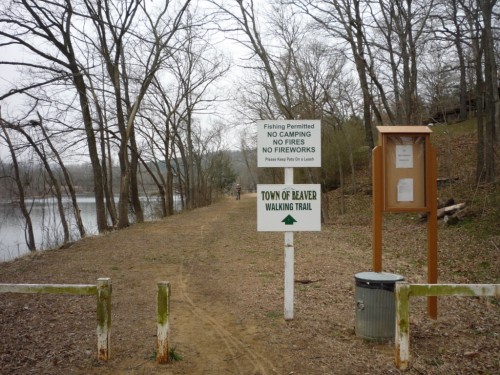 Beaver, Arkansas offers a nice little trail that runs along the shore of Table Rock Lake. It's only about a half mile in length, but very scenic.
There's a nice old railroad trestle near Beaver, Arkansas, on what was originally the Eureka Springs Railway, which was later the St. Louis and North Arkansas Railroad, then the Missouri & Arkansas Railway Co., and finally the Arkansas & Ozarks Railway, which closed in 1961. There are numerous old trestles and bridge abutments still visible in the area. It's too bad the line didn't survive long enough to get turned into a rails-to-trails project — it would have been a magnificently scenic trail.
Beaver Cemetery in Beaver, Arkansas. This sits atop a ridge overlooking Table Rock Lake. A very peaceful place…
An old abandoned house near Beaver, AR. It was good to see the first daffodils of the spring showing up!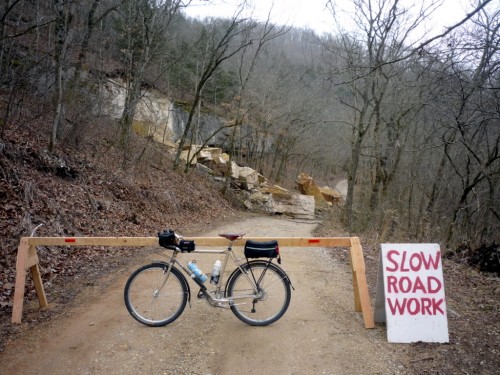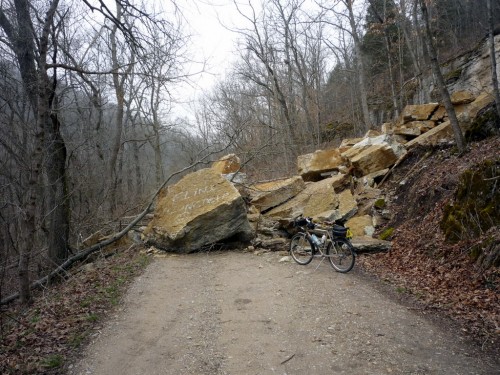 As I rode towards the Mark Twain National Forest on a narrow dirt track, a man in an SUV coming the other way stopped and told me the road was closed ahead. "How far?" I asked. Two or three miles, he said. I decided to go ahead, I could always turn back if I had to. Turned out to be more like six or seven miles.
Rocks had tumbled off a cliff and spilled onto Butler Hollow Road. The road was completely blocked. At first, I attempted to scramble over the rocks. But one, these rocks were really big, and two, they appeared none too stable. I thought better of it, and ended up hauling the bike through the trees below the rock slide. It wasn't easy going, but it was only a few hundred feet.
Abandoned dwellings beneath a huge rock overhang at Butler Hollow in the Mark Twain National Forest. It looked like these were lived in at one time, though most recently had been used for storage. After seeing the rock slide just a few miles earlier, this was a scary place. So much rock overhead!
After reaching the end of Butler Hollow Road, I ended up in the town of Seligman, Missouri. I stopped at a convenience store for some authentic Ozark food (mmmm, Chicken Chimichanga). I wasn't quite sure of the best way to make it back home (short of back-tracking), but I had a pretty good map in my head. I took off on a paved road heading northeast, and eventually came across this sign, for the Sugar Camp Scenic Drive in the Mark Twain National Forest. I knew this intersected with my planned route, so I took it, and a few miles later I was back on track.
Lookout Tower in the Mark Twain National Forest. I wanted to climb it, but the bottom flight of stairs had been removed. Too bad, as it would've been a heckuva view from up there.
The road through the Mark Twain National Forest was scenic, but rough going in places. Hilly, of course, but worse, some fool had driven the dirt roads when it was muddy, leaving huge ruts along miles of road.
Here's a nice view, looking northward, from a pullout along the road. There were several of these along the route.
I also noticed several trails in the forest. They were marked as motor vehicles not allowed, so I assume bicycles were OK. I didn't follow any of them, but this would be a fun thing to do sometime. It'd be better with a group, though. Getting hurt when riding alone on a remote trail would not be a good thing.
Here's the route map: