Sunday, after something like three weeks of snow and bitter cold (Saturday started at less than zero Fahrenheit and didn't get far above the single digits), the weather finally broke, and we not only had bright sunshine, but we had temperatures approaching 30°F. Time to get out and ride!
The first few miles didn't look that promising. This is about a mile-and-a-half from my house, and the wind was whipping pretty good. It was still cold! And of course the road was still snow-covered, with banks of snow piled high on either side.
The particles you see marring this image are actually snowflakes blown over the bank and across the road. If this had kept up, there would have been drifts in no time.
A little further along, I came across this mailbox peeking out above a snow bank. Looks like they're lucky it didn't get ripped away by the snow plow!
This is on the snow-covered shores of iced-over Hillsdale Lake in Miami County, Kansas. The ice was temping, but I didn't try riding on it. Alone, far from any help, with unknown ice thickness on a large body of water, it just wasn't a good idea.
Behind me, as I took this picture, was a pile of deer carcasses — at least six of them, mostly just heads and torsos stripped of meat. It was a gruesome scene. I'll spare you the picture…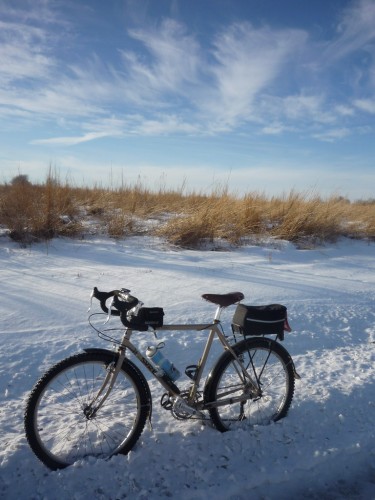 Tall prairie grass in the snow. At it's height, this grass would've been five feet tall or so, but it's been beaten down by wind and rain and ice and snow into a chaotic tangle, but I still love the color.
The road here was in primo condition — smooth but with good traction, and nearly silent as I rolled along. And by this time I had the wind at my back, so it was easy pedaling, and with the bright sun an moderating temperature, it was just a glorious time to be out on the bike.
Actually, I'd snapped this shot in an attempt to capture the image of the flock of geese overhead, but you can just barely make them out at this resolution. They flew right over the top of me, calling out to each other as they passed overhead. It seemed to be a joyous sound, as if they too appreciated the mellow day.
Another magical little moment on the bike!