December has brought some significant snow to Kansas, which is somewhat unusual. Most Decembers feature some white stuff, but it normally doesn't last long. This year, we had a cool start to the month, then a bit of snow, then something of a warm-up, then a doozy of a snow-storm starting on Christmas Eve and lasting for three days, then another smaller storm to end the month.
Normally, snows here don't stick around for long, as there's typically not more than a few inches, and the temperature soon rises and melts it all away.
This time, we got about 6 inches during the first storm (with strong winds that caused significant drifts), then another 2-3 inches in the last storm of the month.
Here are some photos from December's snow rides:

First tracks at Lone Elm Park … well, except for the deer, rabbits, and other critters … (2009-12-10)

The Long Haul Trucker, ready to tackle the trails at Lone Elm Park, covered with a couple inches of wet snow. (2009-12-10)

By the time I ventured out after the blizzard, the roads (even the gravel roads!) were well-plowed, but you can see here how deep the snow was.
The gravel roads, though plowed, were snow-packed and slippery in spots. I went down once (and nearly did so several other times), but at slow speed, so no damage to me or the bike. (2009-12-28)

I liked the color of the grass peeking through the snow, and the pattern of the hay bales as they led up the hill. (2009-12-28)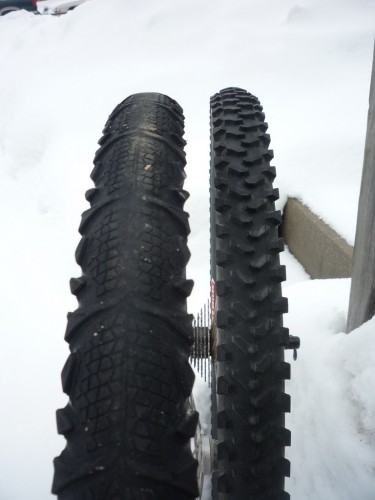 The tire on the left is a Continental Double Fighter II, which I've been riding since mid-year. It has about 2300 miles on it, and is getting rather worn. It's obviously not ideal for snow biking, so I switched over to another wheelset, and mounted Specialized Hardrock'r mountain bike tires on it, hoping for more traction and control in the snow. Both tires are 26″ x 1.95″.

This time out I rode while the snow was falling, and it was a beautiful experience. I was still doing some slipping and sliding (fresh snow atop hardpack is pretty slippery), but the new tires helped a bunch. (2009-12-30)

I came across several snowplows during my ride (or perhaps the same one several times). That is a HUGE blade on the front, and a smaller blade in the center, with chains on the big tires. I made sure to stay well clear of these big machines when I saw them coming! (2009-12-30)

One nice thing about deep snow is that it makes it easy to stand a bike up — just push it down into the drift, and it'll stand up all by itself! Here's the Long Haul Trucker next to a neat old stone fence on Cedar Niles Road a few miles from my house. (2009-12-30)

I thought this was an interesting tree, a large Oak with most of its leaves still attached. It was still snowing lightly at this time, and standing beneath the tree, I could actually hear the snowflakes hitting the leaves, which was kind of a magical little sound. (2009-12-30)

Hard-packed snow across the entire width of the road, and piled high on each side. (2009-12-31)
~ ~ ~
Heading into the new year, the forecast is calling for frigid temperatures, and perhaps more snow, for the next week or so, at least.
So it looks like I'll get more chances to practice my snow-biking skills, and continue to experiment with clothing and equipment choices (which I intend to write up at some point).