Started in LaCygne and rode south on gravel to Pleasanton, visiting the Marais des Cygnes Massacre Historic Site along the way. After bucking a strong south wind most of the afternoon, the tailwind on the way back was a big relief.
Taking a break at a low-water crossing near the Marais des Cygnes National Wildlife Refuge. About lost a water bottle when the bike toppled over shortly after this, and the bottle went skittering off into the creek. Had to fish it out with a tree branch.
Stunning leaves on a gravel road near the Marais des Cygnes National Wildlife Refuge.

Visited the Marais des Cygnes Massacre State Historic Site, located just a few hundred yards west of the KS/MO state line. This incident was one of the events of "Bleeding Kansas", the precursor to the Civil War.
The site features a stone cabin with interpretive displays, as well as signs that tell the story of the massacre.
This tells the story of the Marais des Cygnes Massacre, where on the morning of May 19, 1858, a group of 20 to 30 proslavery men from Missouri captured 11 unarmed freestate men, and marched them to this site, where they were lined up and shot. Five men died from their wounds, five others were injured, and one survived unharmed by pretending to be dead.
The large obelisk in the background is the "Marais du Cygne Martyrs Memorial", located in the Trading Post Cemetery. learn more
A nice hill heading north out of Pleasanton. The hill continues up around the bend for a ways, rising a couple hundred feet over a third of a mile or so. The road had recently been plowed, and the loose rock made the hill that much tougher.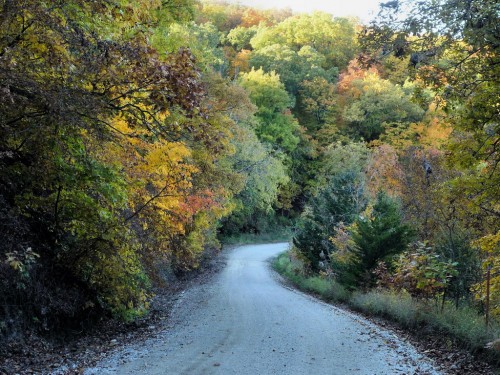 Gravel road winding through the trees just west of the Marais des Cygnes National Wildlife Refuge. The late-afternoon colors were amazing on this stretch.
There's my road!