On the last day of Winter, I got out for a nice long ramble — about 35 miles of Miami County gravel southeast of Hillsdale. At long last, you can really see that Spring has almost arrived. The grass is starting to green up, trees are beginning to bud, and a few flowers have begun to appear. About time.
The first picture shows a bit of that: the grass more green than brown, cows grazing, but the tree still naked. Just a few more days, now …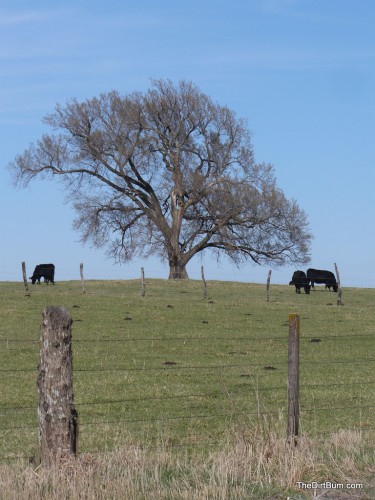 This picture was taken on the North Wea Creek Bridge on 263rd Street. This is a sweet old bridge, spanning 80 feet with a nice wooden deck.
This is a similar bridge, though smaller (only 60 feet). It spans the South Wea Creek at about 299th and Oak Grove Road.
The final picture was from a section of "minimum maintenance" road near Paola. The road seems to be popular with mudders — it's tore up in several places, and quite rocky in others. It's very rough, but passable. The only places I had to walk were where the ruts were too deep, and my pedals were hitting the sides. But this was a fun little mile-and-a-half of road.
The sharp-eyed among you will notice a couple changes to the Long Haul Trucker — new fenders, and a new saddle. More on these at a later time. For now, suffice it to say that the LHT performed perfectly, and the new additions seem to fit right in.