There are two hills on 135th Street in Olathe, that are known locally as the "Twisted Sisters". It's hard to say exactly how they stack up in comparison to other hills in the region, but as my friend Reed says, "They're all there." Here's a picture looking east towards the bigger of the two hills (obviously taken at a different time of the year):
The first time I climbed this hill last year on the mountain bike was a revelation — it was so much easier than climbing this hill on a recumbent. On a 'bent, the hill is doable, but just barely. On the mountain bike, I could just shift down and spin right up it, as slow as I wanted, standing if I needed to. Part of that was the lower gearing, no doubt, but a bigger part was just the upright-vs-recumbent bike geometry. This was one place where the upright bike was clearly superior to the bent.
So naturally, with the new Long Haul Trucker, I wanted to see how it handled this hill. It's a pretty important test to see how well this bike was going to suit me.
Results: No problem. Just spun right up, no big deal. Sweet relief.
Testing the LHT on the Twisted Sisters was my Thursday ride. With warm (nearly 60°F) temperatures and mild wind, Friday was a good day for a ramble.
I stayed close to home and kept the mileage modest (still under 30 miles), heading south to Hillsdale Lake. The route ended up being about 50% gravel. It was a nice, relaxing ride with very little traffic, and just a gorgeous January day. But by the time I got home the sky had clouded up, the temperature had dropped significantly, and I was surprisingly tired. Guess I'm still working my way back into fitness.
Some pictures from the ride:
I always like to stop at this little bridge and watch the creek below. Also, I love the big old Oak tree in the background.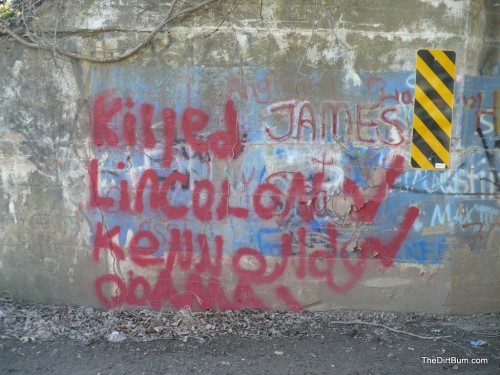 This is just sad. In case you can't read it, it says: "Killed: Lincoln [check], Kennedy [check], Obama [half-check]". Way to perpetuate the reputation of rural Kansas, youth of Spring Hill.
The Long Haul Trucker in some wild grass near Hillsdale Lake. Not sure what this grass is called, but I love the color.
Sitting on the bridge railing at Hillsdale Lake. Often there's too much traffic to do this, but today I nearly had the road to myself.
It turned out to be a great day for a bike ride! The forecast is calling for cold weather for the next few weeks, so I'm glad I had the opportunity to take advantage of this nice day.