Earlier in the year, many of my rides seemed to be of the "long and slow" variety, as I built up the base miles. Later, there were a good number of "short and fast", and even a few, rare, "long and fast" rides.
But now, as the year winds down and the weather becomes a bigger factor, I've been reduced to mostly "short and slow" rides.
In November so far, I've only logged 267 miles, at an anemic 12.4 MPH average pace. And that's even including a wind-aided 36-mile, 16.5 MPH ride.
Yesterday was more of the same: 23.6 miles, 10.6 MPH average.
It didn't help that I took a detour and rode a bit of singletrack that required — for me at least — a good amount of hike-a-bike. Pushing a bike up a steep and rocky trail at 2 MPH can pull your average down in a hurry.
But despite the death-slog average speed, I count it as a great ride.
In late November, getting out on a 50°F day with light wind and brilliant sunshine can't help but being a great ride.
I drove down to Hillsdale, KS and parked at the Lake-and-Dale c-store before heading east for a few miles, then making my first-ever visit to the village of Wagstaff, followed by 15 miles or so of gravel, including a short-but-very-steep little climb that I went out of my way to try.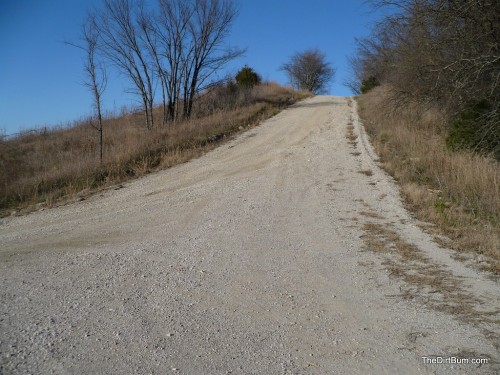 This thing was crazy, just insanely steep, but I put the bike in the little ring, shifted down, and climbed right to the top. I figured my back wheel would slip out on the gravel, but it hung in there.
Getting down the hill, though, was something else. With a tight little corner at the bottom of the hill, I couldn't just turn it loose and coast, so I had to ride the brakes all the way down.
After a few more miles of gravel, I found myself on the edges of Hillsdale Lake park, and turned onto the singletrack there.
Actually, calling some of these trails "singletrack" is being generous. They're primarily equestrian trails, and the horses make a hell of a mess, gouging deep, rough cuts in the trail, and leaving behind lots of organic material. Thankfully, the trail didn't appear to have seen much use recently, and most of that stuff was dry.
Still, bouncing from hoofprint to hoofprint can make for a rough ride, and I was glad to finally reach a side-trail that received less traffic. This was a trail I'd never ridden before, and I was rolling along on mostly-smooth dirt when I came to this:
That's a nasty little rock-infested uphill. When I first caught sight of it, I rolled up to the base, stopped, and said "no way." I pushed the bike up through the minefield, then turned around and road it downhill. Hell yeah! That's more like it — bumpedy-bump and bouncedy-bounce, but it was a hell of a ride.
Back at the bottom, I looked up at that rocky climb, and thought that if I could get enough speed, and picked just the right line, maybe, just maybe I could clear it.
And damned if it didn't work. Spun right up it. No prob. Wow.
A little later, further down the trail, I scared up a deer, and it went bounding off into the brush, white tail blazing. That was cool.
When I reached the horse-trailer parking area, I found it completely deserted, where as usually it's crawling with people and beasts. I took my time and explored the area a bit before connecting to a trail and the western end of the site, and quickly found myself on a wide, smooth trail that clearly saw a lot of use — a veritable horse superhighway.
Eventually the trail split off in several directions, and I took the spur headed off into the woods.
This was some of the sweetest trail I've ever ridden, no kidding. Just gorgeous in the late afternoon, crunching through leaves, winding among the trees, bouncing off rocks hidden by the leaf cover. Just a sweet, sweet bit of trail.
After a bit of off-the-bike action, as I had to dismount to negotiate an especially steep and rocky downhill, I found myself along the shore of Hillsdale Lake. After picking my way through the trees, I arrived on a small beach, and leaned the bike against some driftwood. Nice shot:
One more shot from the same beach, a self-protrait from a different angle: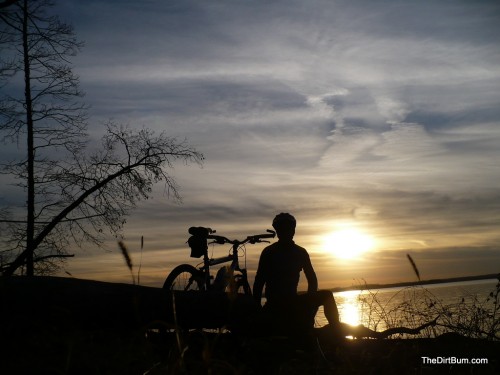 By that time, as you can tell from that last shot, it was getting along toward dark, so I got moving. On the way back, I hit one final bit of trail, and managed to crash. All that twisty, rocky, muddy trail I'd ridden, and I wipe out on a straight and open section of trail.
I was rolling along on a horse-track, and it just cut deeper and deeper into the ground the farther it went. The walls along the foot-wide track got to be about a foot high, and there was no way to get out. Eventually, my pedal snagged on the sidewall, and over I went, thankfully into soft grass. No harm, no foul.
I pulled back into Hillsdale town a few minutes after five, cutting it close as I didn't have a headlight on the bike.
Great ride.