Slaughter Pen Hollow is a mountain bike park located in Bentonville, Arkansas. It's been open for a couple years, and I've heard good things about it, so I took a little detour on my way home from my week in Arkansas. I stopped by the local shop, Phat Tire Bikes and they gave me directions, and I found the place with no problem.
Slaughter Pen Hollow offers approximately 16 miles of singletrack mountain bike trails, as well as several mile sof paved multi-use trails, a mountain bike skills course, and a freeride area. The singletrack is arranged in a stacked loop configuration, with four levels of trails, ranging from easy to challenging. I rode the easiest and next-to-easiest, and left the harder trails for another day.
The trails I did ride I found to have great flow. There were quite a few rocks, but most were small and quite manageable. Mixed in with the smooth trail are several sections of more challenging terrain, each labeled appropriately, and, for the more difficult, bypasses.
The freeride area was actually quite fun. With its huge berms, big roller coasters, platforms, and wall rides, it looks rather intimidating at first glance, but it's actually not bad. Well, at least the roller coasters and berms aren't bad; I didn't try the platform drops or the wall rides.
Here's some pictures:
This is the map for Slaughter Pen Hollow mountain bike trails and skills/freeride park.
This trail at Slaughter Pen Hollow is called "Armadillo's Last Stand". It is the next-to-easiest trail in the park.
This is me crossing a short bridge on the "Armadillo's Last Stand" trail at Slaughter Pen Hollow.
This is part of the roller coasters and bermed turns in the freeride area at Slaughter Pen Hollow.
This is one of several log rides at Slaughter Pen Hollow. Too scary for me to attempt…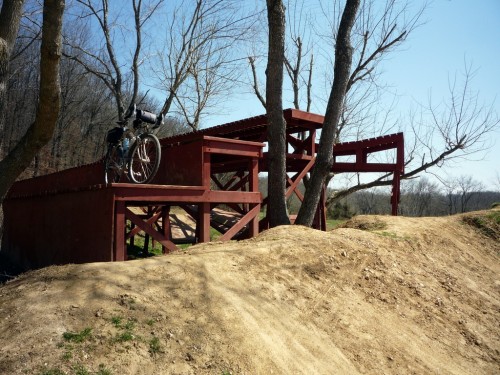 There are several platforms of various heights that you can ride off of and drop onto the dirt below. I rode onto the platform, but no, I didn't actually try the drop…
This is one of the wall rides at Slaughter Pen Hollow. You apparently approach from the right, kick your wheels up onto the wall (see the tread marks?) and then drop it into the dirt landing area.
This is another trick/skills feature at Slaughter Pen Hollow, this one featuring an ad for the local bike shop, Phat Tire.
And finally, here's a bucolic scene showing the paved multi-use pathway running beside a nice little stream with gurgling mini-waterfalls. Nice.
All in all, I was really quite impressed with Slaughter Pen Hollow, and I'd like to go back and ride the trails and hit up the freeride area again.