For this ride, I parked in Rantoul, KS and rode south on gravel to the town of Greeley. I found some cool stuff along the way, plus some sweet minimum-maintenance roads.
Interesting bicycle art at a junkyard near Lane, KS.
This was a really strange collection of old cars I found near Greeley, KS. The vintage (probably 1950s) Detroit steel was situated between a railroad and a creek, half-buried by rocks, with a long steel cable running through the frames. I'm guessing that there was a junkyard located nearby, and they were using the rusted-out old vehicles as part of a sort of levy. Very odd.
This is Spencer's Crossing Bridge near Greeley, KS. It was built in 1885 over Pottawatomie Creek, and closed in 2001. The new bridge is located right next to the old one (you can see it to the left). This is a rare instance when a beautiful old bridge was spared, but to what end? The bridge is listed on the National Register of Historic Places.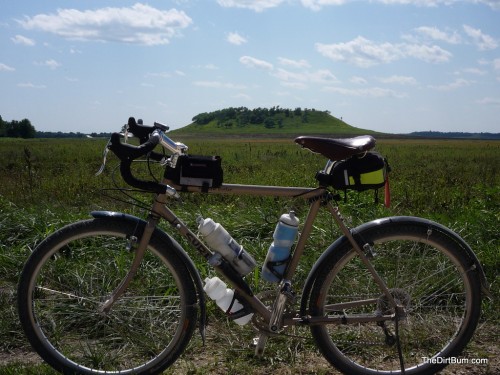 The landmark behind my bike is a huge natural mound near Greeley, KS, rising 150 feet from the Pottawatomie Creek floodplain. I believe it's called "Wadsworth Mound", and was used a lookout by Indians, and later by soldiers during the Civil War struggles between Missouri and Kansas.
The architecture on the Ruhamah Baptist Church near Rantoul, KS is very interesting, with a long, sloping roof extending nearly to the ground.